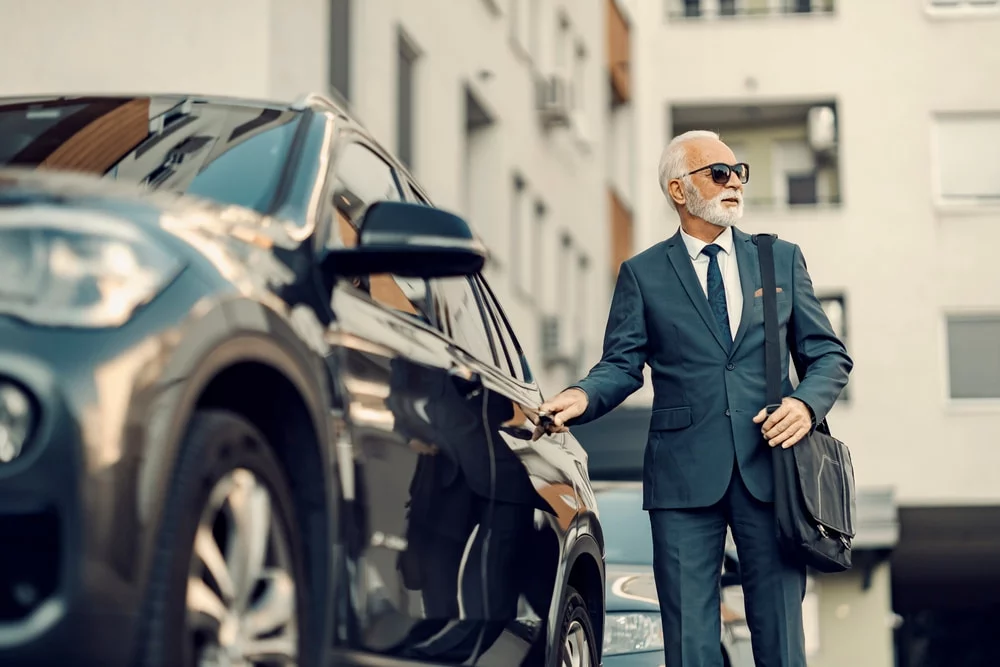 Welcome to the bustling heart of the city that never sleeps – New York. In this fast-paced metropolis, where time is precious and comfort is paramount, Northwest Limousine proudly introduces its NY Black Car Service. We understand that your transportation needs are far from ordinary, so we've created a service that redefines luxury, privacy, and comfort amid this urban whirlwind.
Your Personal Sanctuary
Choose Northwest if you want more than just a ride. Above all, we value your privacy and needs. We create a personalized experience, particularly for you. Our black car service is one of the most popular because it provides privacy and personal space while shielding you from city traffic. It's a spot of quiet amid urban mayhem, with tinted windows that keep the outside world away and plush interiors that wrap you in tranquillity.
Imagine stepping into your waiting black car after a long flight or a hectic day of meetings. The noise of the city fades away when you close the door. You're enveloped in a world of serenity, where your thoughts can finally find space, and you can take a deep breath, free from the cacophony of the streets.
Whether you're making sensitive business calls, engaging in confidential discussions, or simply seeking a moment of solitude, our black cars provide the ideal atmosphere. It's a place where your privacy takes center stage.
Comfort That Sets the Standard
Comfort isn't just a luxury; it's a necessity. Our NY Black Car Service understands this, and our vehicles are meticulously maintained to provide the utmost comfort. Sink into sumptuous leather seats that cradle you in relaxation. Enjoy the perfect climate, thanks to advanced temperature control systems. It's a level of comfort that ensures your journey is as enjoyable as your destination.
Our black car fleet caters to various needs and group sizes. Whether traveling solo or with a group of colleagues, you'll find the perfect black car that suits your requirements. It's about ensuring every mile of your journey is as comfortable as the last.
Your Space, Your Rules
In our NY Black Car Service, you're the master of your domain. You control the ambiance, the conversation, and the music. There's no need to share your ride with strangers or endure someone else's playlist. It's your personal space, and you set the rules.
Want to relax in silence, listening to the hum of the city outside? You can. Crave your favorite music or audiobook as you unwind. It's at your fingertips. Privacy dividers create an even more secluded environment, ideal for intimate conversations or focused work. Your ride reflects your preferences, and we're here to ensure they're met.
Professionals Behind the Wheel
Behind the wheel of every black car is a professional chauffeur, not just a driver. Our chauffeurs undergo rigorous training to provide safe but also courteous and accommodating service. They know the city inside out, ensuring you take the most efficient routes to your destination.
Their commitment to your privacy and comfort is unwavering. They understand the importance of a smooth ride, free from distractions or discomfort. With our chauffeurs, your journey is in capable hands.
More Than Transportation
We deliver a service that is not just about taking you from one place to another but also improving your service quality. Our black car service is the perfect choice to make a statement entrance, be it an important meeting, business travel, or even celebrating a special occasion.
They symbolize sophistication, elegance, and a commitment to excellence. When you step out of a Northwest Limousine black car, you're not just arriving—you're making an entrance that commands respect.
Privacy and Prestige
In the world of business, privacy is paramount. Whether discussing sensitive negotiations, reviewing confidential documents, or simply needing a quiet space to think, our NY Black Car Service provides the privacy you require.
Our tinted windows shield you from prying eyes, creating a confidential space within the bustling city. You can discuss matters of importance freely, without fear of eavesdropping or unwanted attention. It's not just about privacy; it's about preserving your prestige and reputation.
Imagine arriving in a sleek black car at a crucial business meeting or corporate event. Your entrance is not just noticed; it's remembered. It's a subtle yet powerful way to convey your dedication to professionalism and excellence. In the business world, first impressions matter, and our black cars ensure yours is impeccable.
Arrive in Style, Every Time
The red carpet treatment isn't just for celebrities and dignitaries. With our NY Black Car Service, you can experience it, too. When your chauffeur opens the door, you're treated with the same level of respect and care as any VIP.
Picture yourself stepping out onto the red carpet, the flash of cameras capturing your arrival. It's a scene that sets the tone for the evening. Our black cars offer this level of grandeur, allowing you to arrive in style at any event, whether it's a corporate gala, a film premiere, or a high-profile social gathering.
A World of Convenience
Beyond privacy and comfort, our NY Black Car Service offers unparalleled convenience. Forget about the hassles of hailing a cab or searching for a rideshare. With our service, your black car is just a few clicks away.
Our user-friendly booking system allows you to schedule your ride with ease. Have specific requests or requirements? Our customer support team is available around the clock to assist you. It's a level of convenience that ensures your transportation is never a source of stress.
More Than Transportation, It's an Experience
We understand that you want an experience rather than just a ride. What better way to do so than with our black car service? We offer travel that is more than just getting from one point to another; it is about having a relaxing yet beautiful experience in tranquillity and luxury.
Our vehicles are equipped with state-of-the-art amenities, from entertainment systems to refreshments. It's all about creating an atmosphere where you can unwind, socialize, or prepare for your event.
And, if your event involves more extensive planning, like coordinating transportation for a large group or managing multiple destinations, we have the expertise to make it happen seamlessly. Our dedicated customer support team is available to assist you in planning every detail, ensuring that your event goes off without a hitch.
Elevate Your Experience with NY Black Car Service
In a city known for its fast pace and high expectations, Northwest Limousine's NY Black Car Service stands out by exceeding those expectations. We are more than a transportation service; we are your partners in ensuring your experience is seamless and sophisticated.
Your journey in the Big Apple should be defined by your terms, and with our black cars, it always will be. Choose the ultimate in privacy, comfort, and prestige. Choose Northwest Limousine to 
Experience our NY Black Car Service today and discover the new standard in transportation. Your privacy, your comfort, your rules. Contact us to book your NY Black Car Service and elevate your transportation experience in a never-sleeping city.